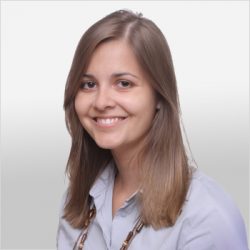 Magdalena Marczewska, Assistant Professor at the Faculty of Management, University of Warsaw. She specializes in innovation and technology management, as well as project management with the focus on environmental technologies. In 2016 she was awarded a doctoral degree in management science with honors research distinction at the University of Warsaw. She is an author of several publications: books, reports, book chapters and articles. She participated in numerous international exchange programs, among others, at the University of Kentucky, London School of Economics and Political Science, University of Padova, University of Ferrara and Lund University.
Dr. Marczewska participated in research projects commissioned by the Polish Ministry of Environment, European Union, the World Intellectual Property Organization (WIPO) and the Polish Patent Office. Moreover, she managed the research project funded by the National Science Centre (NCN, Poland).
She currently works for an export company as specialist for strategy and development. She is also a country expert for the R&I Observatory Network of experts, managed by the European Commission Joint Research Centre. Furthermore, she is an expert representative of the University of Warsaw in the Technical Committee No. 270 for Environmental Management at Polish Committee for Standardization.
Klincewicz, Krzysztof (2012) Political Perspective on Technology Alliances – the Case of Microsoft and Google. Journal of Entrepreneurship, Management and Innovation, 8, 1, pp. 5-34
Żemigała, Marcin (2012) Controversies over Corporate Social Responsibility, Human Resources Management and Ergonomics, 6, 1, pp. 118-128
Klimczuk, Magdalena (2011) Agriculture and Food Processing Industry Cluster Development Conditions in Podlaskie Voivodship, Theory of Management, University of Zilina, 4, pp. 266-270
Klincewicz, Krzysztof and Miyazaki, Kumiko (2010) Sectoral Systems of Innovation in Asia. The Case of Software Research Activities, International Journal of Technology Management, 2-4, pp. 161-189
Klincewicz, Krzysztof (2009) Establishing and managing an innovation network – the case of NTT DoCoMo, International Journal of Entrepreneurship and Technology Management, 9, 1-2, pp. 104-117
Klincewicz, Krzysztof (2007) Praxiology and the effectiveness of Information and Communication Technologies, Praxiology, 15, pp. 81-96
Wu, Qiong, Miyazaki, Kumiko and Klincewicz, Krzysztof (2006) Analysis of the open source software sector in China, Asian Journal of Technology Innovation, 14, 2, pp. 117-141
Klincewicz, Krzysztof (2000) Postindustrial business ethics, Praxiology, 8, pp. 35-46